Why To Choose Our Portable Air Compressor?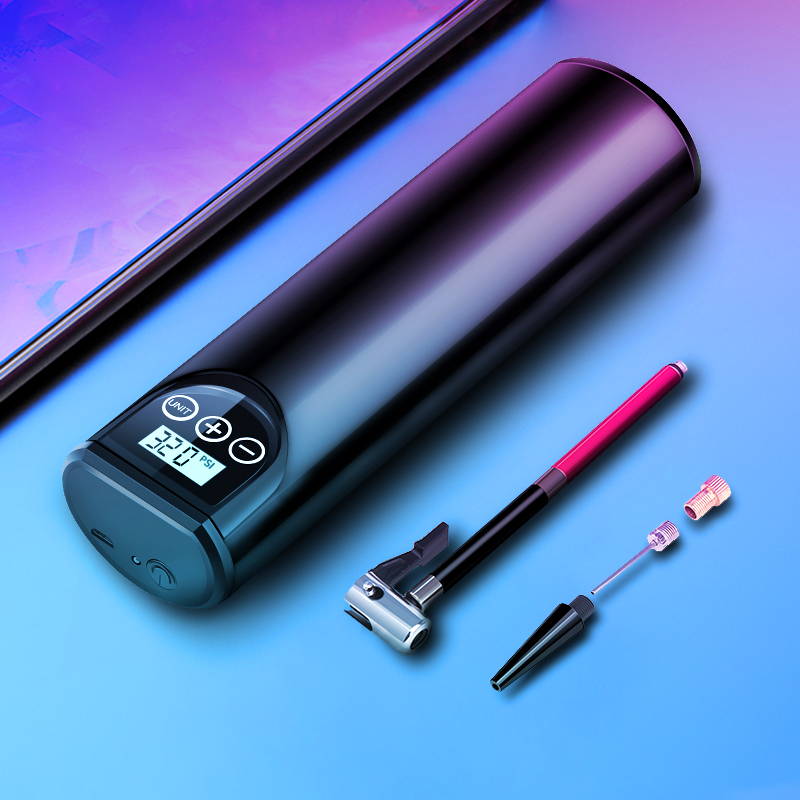 Our Air Compressor is designed to be portable, lightweight, and simple to operate with one hand and is very easy to start inflating. 150PSI powerful air pressure provides a faster inflating speed. It could saves your much time if you choose our tire inflator, without the worry of long waiting.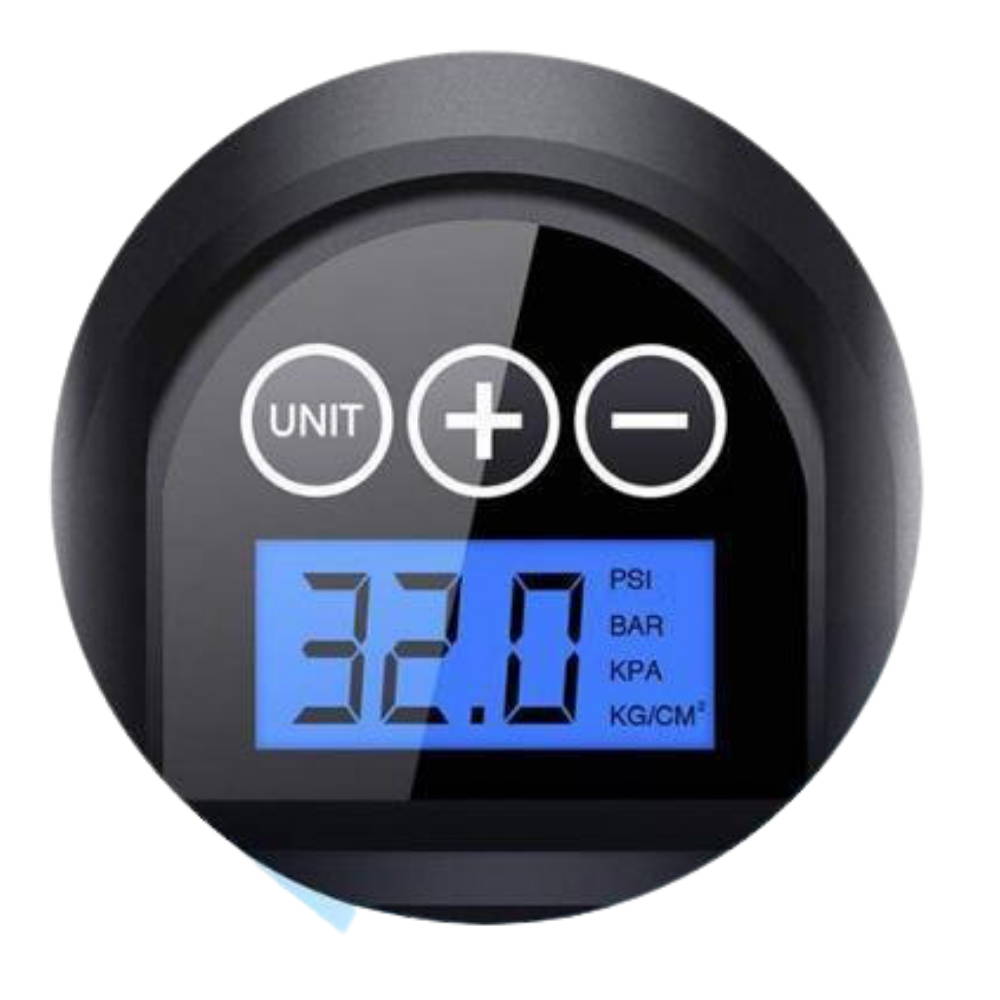 Intelligent & Automatic Inflation
4 Switchable Pressure Units (PSI, BAR, KPA, KG / CM²) , Just press the button " Unit" to change the unit basing on your need. The intelligent technology design will monitor the air pressure of the tire during the inflation and automatically shut down once it reached the preset pressure.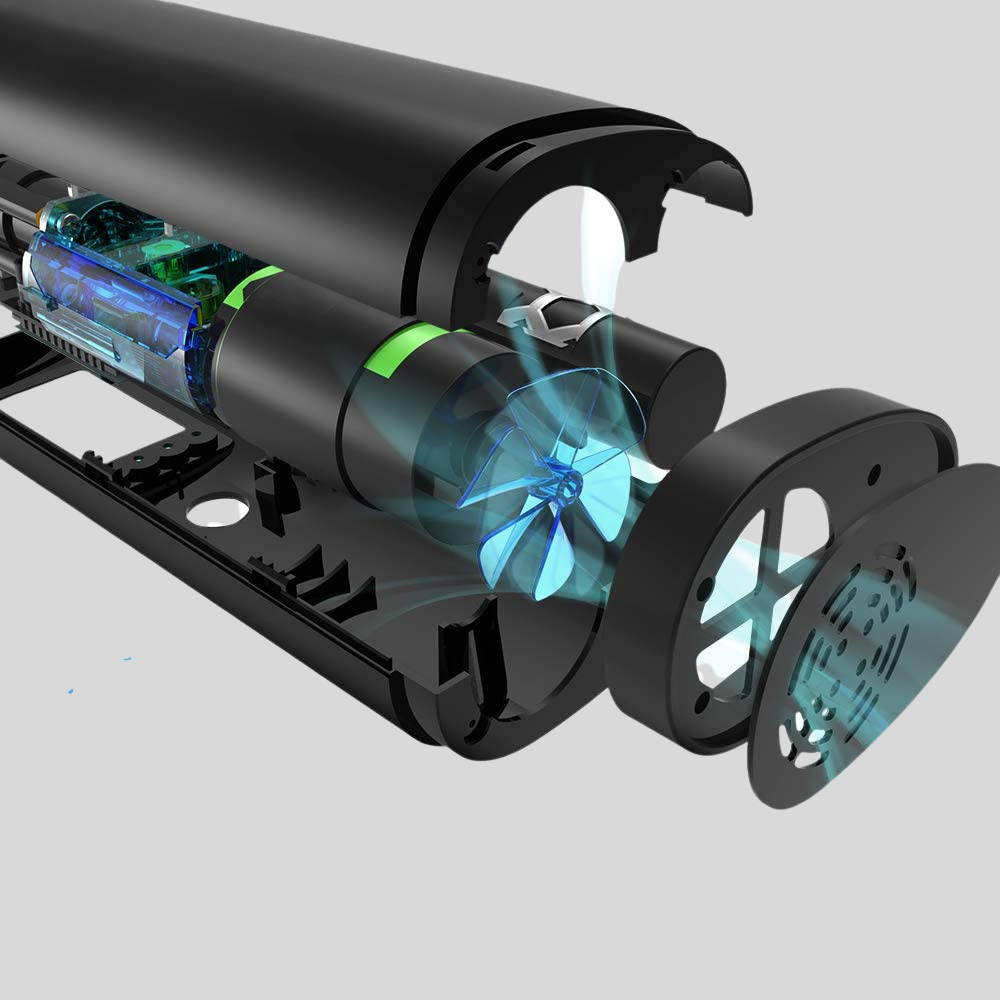 Built-in 2000mAh rechargeable lithium battery. It can air up about 2 car tires or 8 bicycle tires or about 25 soccer balls after fully charged. Therefore, we advise to use the pump for the car tire reinflation but not completely inflation.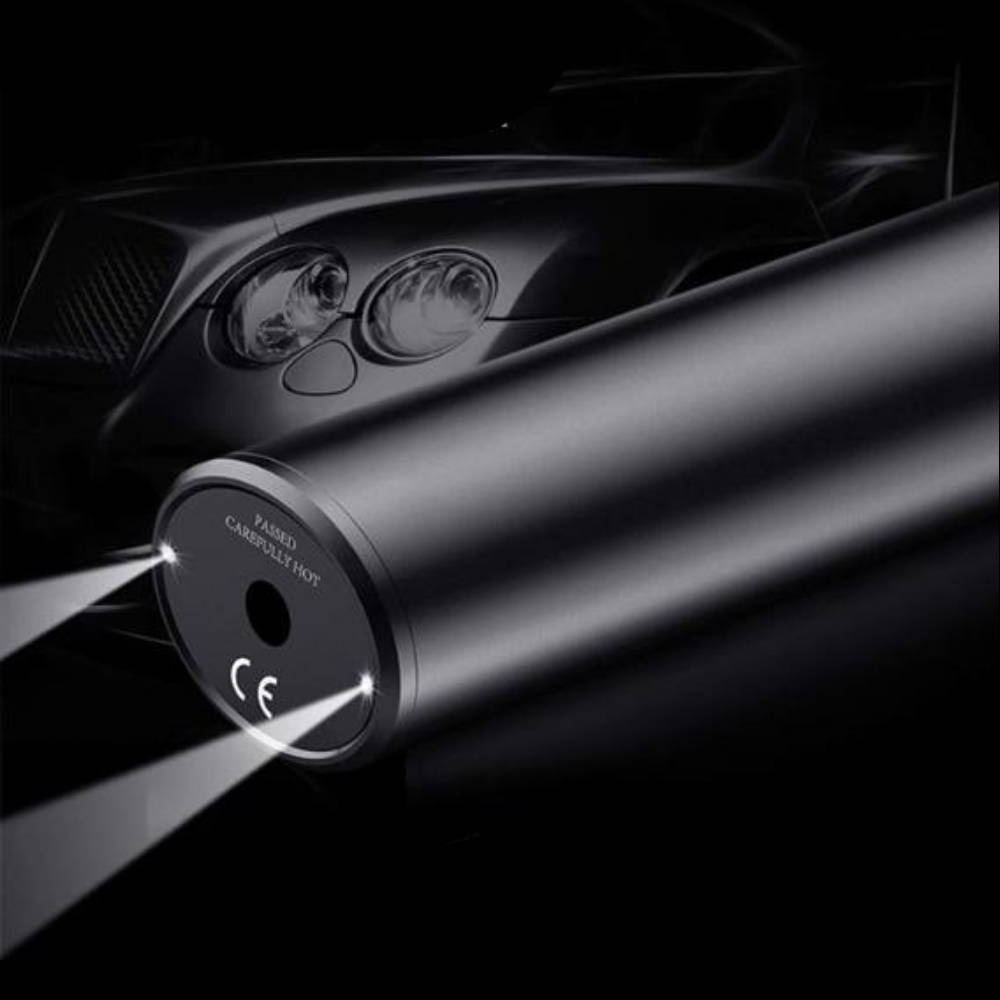 Super Bright LED Flashlight
2 built-in LED lights that can be controlled by the switch. The LCD digital display with backlight makes easy to read the numbers even in the darkest of nights. We got you covered.
We Couldn't Have Said It Better Ourselves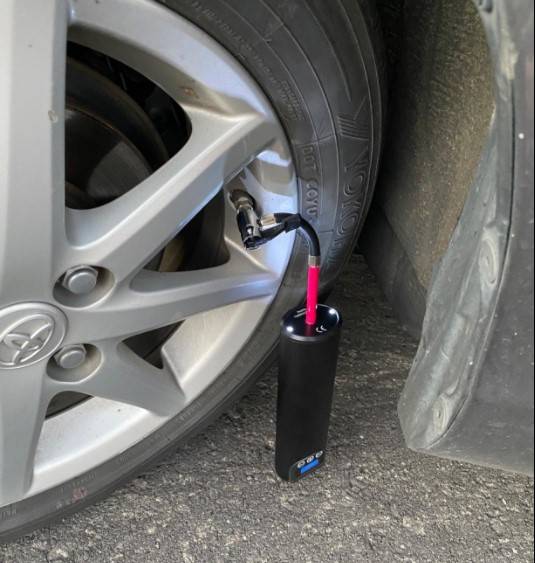 Small but powerful , perfect for emergency situations
The best pump I've owned by far. It is very small and surprisingly quiet. You can barely hear it if you are on the opposite side of the car. Great build quality and comes with it's own little bag. It also stops automatically to the psi you specify! Super cool.
-Diana Casey, Ontario , Canada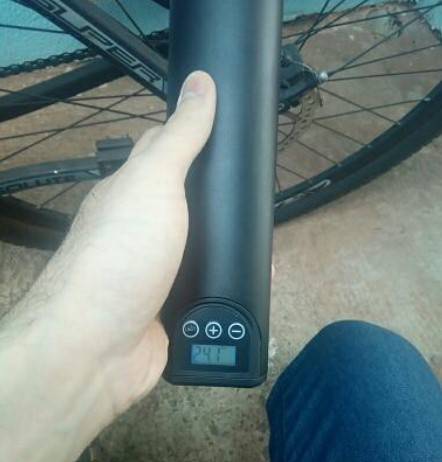 A good and portable hand held pump.
My wife has used it for her bicycle tires and finds it very easy to use. Chalk and cheese between this and a standard bicycle pump. She thinks it's lightweight and easy to grip. Does not feel flimsy at all and she carries it in a little hold all on her bike. A nice value buy she thinks.
-William Rodriguez, Alberta, Canada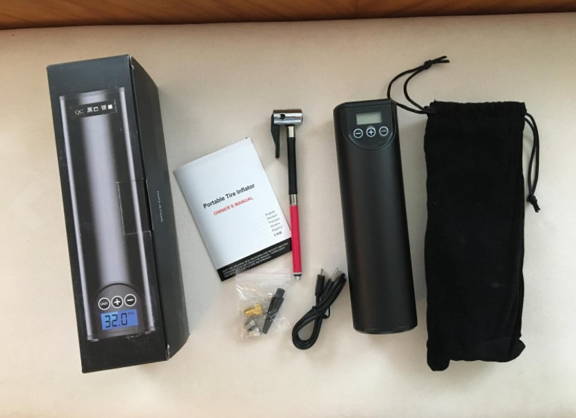 Great for travel/emergencies
Received it in just 4 days , Great product tested on car, bike, bicycle and basketball. You set the pressure, you press start and stops automatically when it reaches the value. You can use it as a torch.
I really like the compact and portable size of this air compressor. It makes transporting it so much easier than standard, bulkier model.
-Ryan Carter, New York, USA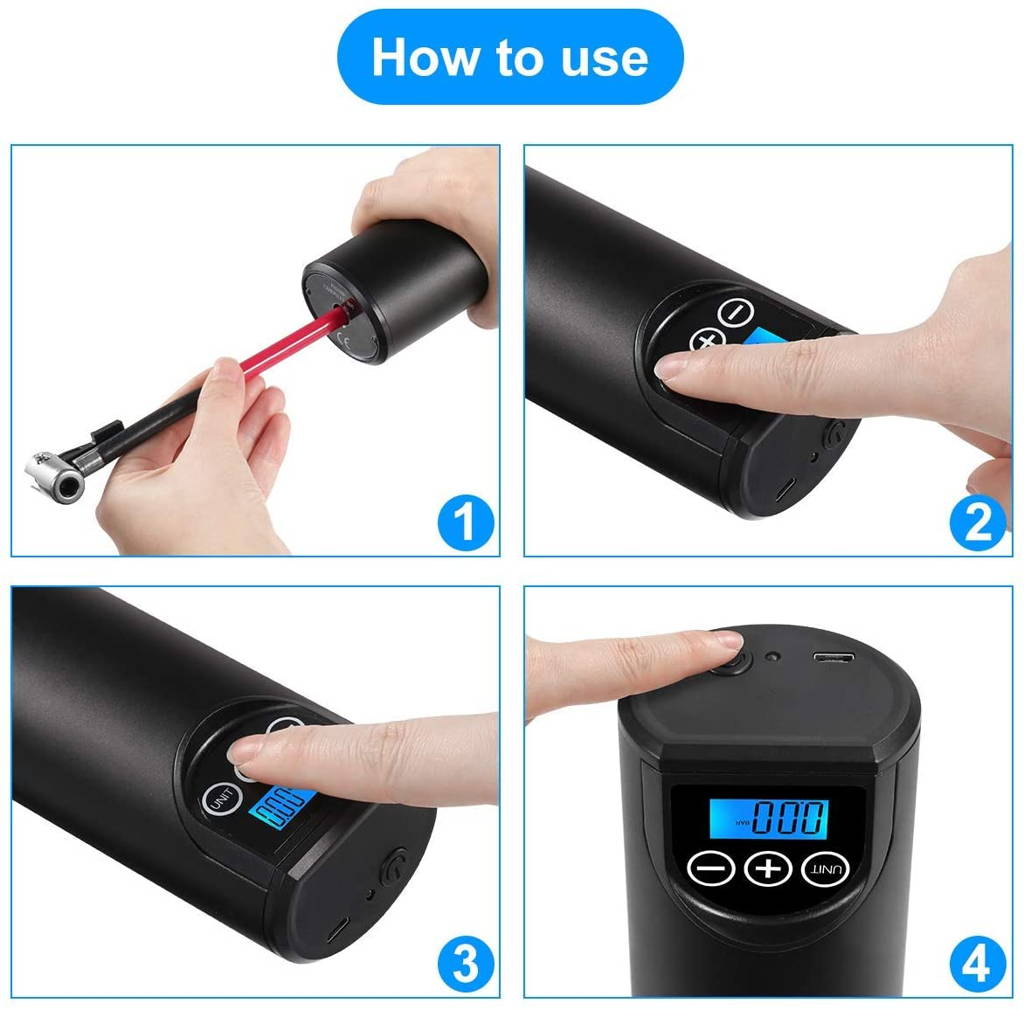 Connect the hose into the bottom tire valve core.

Press down the buckle on the air hose to prevent air leaking.

Press the button "Unit" to wake up the LCD screen.

Press the buttons "+" and "-" and choose the preset pressure you want.

Press the power button to start inflating! It will stop automatically when the preset pressure is reached.
Our Air Compressor VS Others!


Battery Capacity: 2000mAh

Inflation Efficiency: 15L/min

Inflation Pressure: 150PSI (Max)

Outer Air Hose Length: 13cm ± 0.5cm (5.1 ±0.2inch)
Pressure Units: PSI, BAR, KPA, KG/CM2


Size: 5.5*4.5*19.8cm (2.2*1.8*7.8inch)

Maximum Continuous Working Time: 10 minutes
1x Grabby Loots™ Portable Air Compressor

1x Fast-Charging USB Cable

1x Instruction Manual (English)
100% No-Risk Money Back Guarantee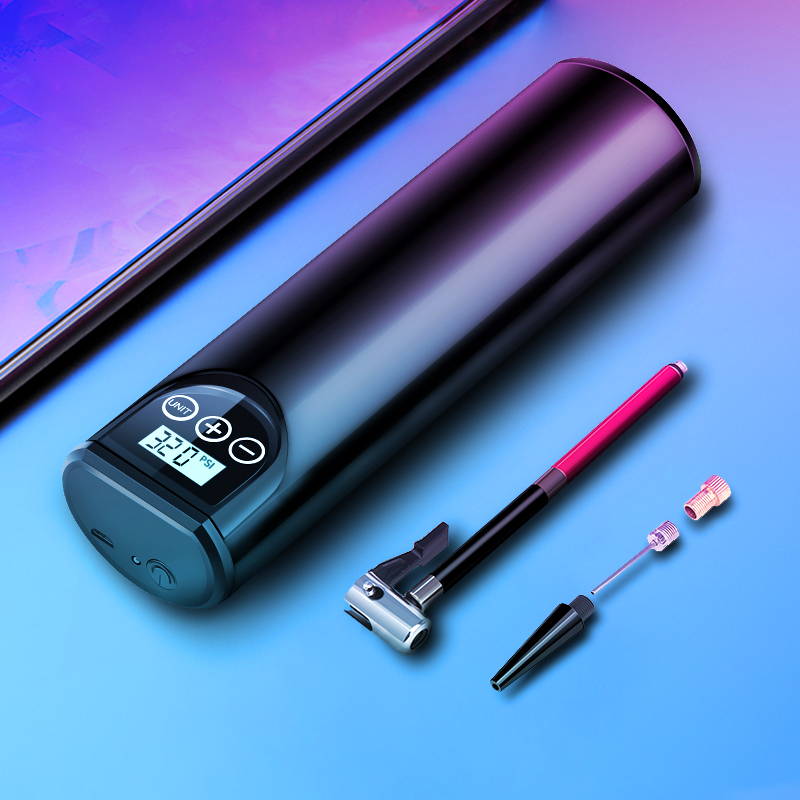 How do you charge the battery?
You can charge it with the USB wall charger that comes with it or the cigarette lighter in your car.
How much time will it take to inflate a typical passenger car tire from 0 psi to typical tire pressure of about 35 psi?
It will spend about 2 minutes to inflate!
Can I inflate my SUV tires with this?
Yes! The inflation pressure is 150 max psi. An SUV tire would easily inflate.
How do I know it's charging?
There is a LED right next to the charging port on the pump that lights up when charging. It's super easy to see!
Does it come with different valves and nozzles for filling the air in different things like a tire and then a ball?
Yes! It comes with all the different accessories needed for any type of inflation. Super versatile and honestly it was so worth the price in the long run. I've had it for almost 8 months and this little thing has saved me so much time, stress, and money. Seriously amazing..five stars and beyond!
Does this work for a flat tire?
It will and I have done so before. I really like mine and keep it in my car at all times. I also purchased another for bicycle tires and other inflatable items. The bottom line is I did use it for a very low tire and it worked. Very fast as well :).
4,156 hrs is the amount of time we've spent perfecting our Portable Air Compressor.
From the automatic turn off technology to the built-in LED lights , every feature has been designed and tested for maximum accuracy to allow you to take the full advantage of our device.
And we're not stopping there! We take your feedback very seriously. If you have any suggestions on what you'd like to see in our Portable Air Compressor, please contact us via the live chat or use the contact form.
100% No-Risk Money Back Guarantee