Your eyes aren't deceiving you: These are real-life levitating planters! And just like in the classic magic trick, while they're hovering in midair, you can quickly sweep your finger between the planter and platform—or even give them a gentle spin.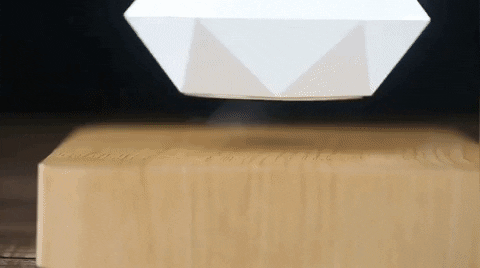 The secret is in the age-old technology of magnets. If you remember from grade school, when both north pole ends of two magnets face each other, there's a strong magnetic repulsion. The platform and pot are essentially both north poles, and that's how the planter stays afloat. Neat, right?
SPECIFICATIONS:
Bearing Weight: 300g miniature plants
Suspension Distance: 20mm
Base Size: 13.4*13.4*2.8 cm
Flower Pot Size: 9*9*5 cm
Power Supply: 12V/, 1A
Weight: 1350g/set
PACKAGE INCLUDES:
1x Flower Pot
1x Base Plate
1x Charging Cable

1x English manual
OUR WAREHOUSES ARE LOCATED IN:
United States

Australia

Poland

Spain

France

Russia
WHOLESALE:
If you have a business and need more than 5 pieces we would be very happy to receive an email or a message . We will then give special discounts.
Totally Awesome!
I've only owned this for a few days, but all my initial concerns went away after unboxing.
-The planter only takes a minute of practice to get it levitating. After that, it takes only a try or two.
-Once levitating, the planter is very stable. You can spin it and push it around easily and it takes quite a bit of force to knock it out of levitation. When that does happen, it just sticks to the base. But it's never done that on its own. It requires you to push it off center with more than minimal force.
-The unit is silent. No electrical hum or any other noises.
So I saw the high price tag on this and seemed to see some mixed reviews as well although most ppl seemed to love it, but others stated theirs didn't spin etc...for me the product was just as advertised. It looks beautiful, the wood is really nice, the pot is also elegant and well made and it was very easy to get it to start floating, not hard like some reviews state, just takes a few tries but within a couple of minutes you get it and it also spins beautifully. The beautiful part is that sometimes it spins one way, comes to a halt, and then starts spinning the other direction, it really is as beautiful as advertised and I'm very happy with it. I feel this one is very well made and deserves the price tag for a few reasons that are other nice features: all in all I'm very happy with the product and will try and post a video of it too. thank you for an amazing product that has added so much to my home.
I got this for a very special person and she's worth it, so the cost was not a factor. This thing rotates on it's own, suspended in the air. Crazy and I'm glad I got it for her.
I must say this product was better than I'd ever imagine! It's awesome and catches every eye in the room instantly. I love it and my succulent is growing well so far.