Beneficial & Beautiful Home Decor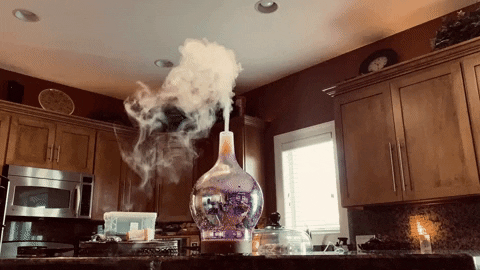 Our Aromatherapy Essential Oil Diffuser & Humidifer™ looks like a frozen firework and will put any other diffuser to shame! A changing array of colors as its LED lights shift through 7 mesmerizing colors providing hours of selfless relaxation. Holds up to 1L of water that lasts 4-8 hours before Waterless Automatic Shut Off occurs, but you can set a 1-2hr timer. Feel free to add oils, and start with just a few drops. 
 

Relaxing & Soothing For Better Sleep 

😴

 
If restful sleep is the goal, try diffusing relaxing lavender, Roman chamomile, spikenard, neroli, mandarin or sweet marjoram in the bedroom for 15 minutes before bedtime. Some diffusers are equipped with automatic settings that can turn off the diffuser after 20 minutes or can deliver short bursts of diffusion at intervals throughout the night.


During times of colds and flu, try diffusing Oils like thyme, eucalyptus, rosemary, manuka or ravintsara. Cinnamon and clove are excellent for prevention, and smell lovely with a bit of orange added. Lemongrass, tea tree, eucalyptus, oregano and juniper are specific for air purification, and can also help to clear the air of the smell of mildew.
Easy To Clean 🧼
High Quality Strong Mist Vaporizer 🌬️
3D Illuminating Glass Cover 💎
Essential Oils and Aromatherapy Diffusers have a variety of benefits including helping you sleep, elevating your mood, easing breathing, eliminating pain, helping with cognitive function, warding of illness, repealing inspects, and cleaning your home! Our Firework diffuser is the perfect, natural relaxation treat. Our team here at Grabby Loots™ work hard to provide the most beautiful diffusers on the market!
If the color changing feature is too bright and keeps you up at night, or is just too distracting to work next to, just press the LED Light Button on the right until you find your favorite color or completely turn off the light and let it run normally.
Safety and environment friendly
Our aromatherapy diffusers are made of high quality material which are safe for babies and pets. It will automatically shut off when the water runs out. Ensuring the safety and offering you a good night.

Package includes:
1x Oil Diffuser (Oil is not included)
1x Power Cable
1x User Manual
* Essential Oils Sold Separately 
To Buy Essential Oils : Click Here