An inflatable float is too DANGEROUS & RISKY for your baby!
YOU NEED THIS!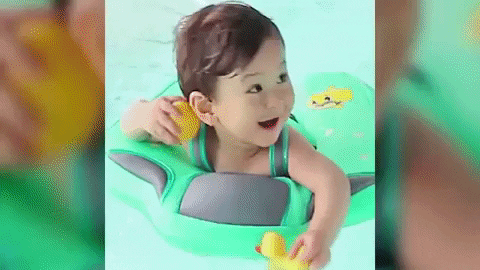 WHAT IS A SMART SWIM TRAINER?
It is a Non-inflatable float. The core of solid float is peal-foam. This material can offer buoyancy up to 20 kg (44 lb). Solid float never leakage never sink.
It comes with a shade that is made of UPF 50+ fabric. Avoid baby hurt by UV in the outdoor swimming pool. It is easy to set up & removable.
SMART SWIM TRAINER DESIGN FOR WHOM?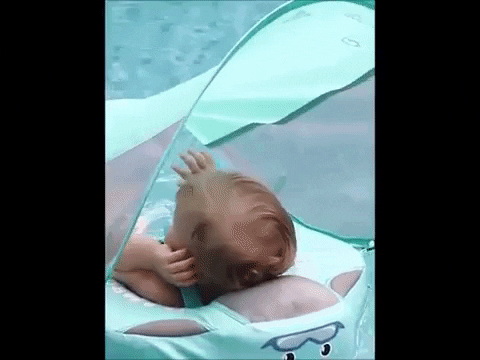 For 3~24 months baby to learn swimming. The float shape designed to form a 40-degree elevation angle of body position. It is a proper way to learn the breaststroke.
KEY FEATURES:

SOLID FLOAT with SHADES 
Shades Provide added stability for float and make you feel safe and secure. UPF 50+ canopy protects baby's skin away from the sun. Make baby enjoy the swimming fun in summer.
100% SAFE
Upgrade Waterproof and Ultra-soft materials make air-free swim float pro is safer and durable than inflatable float. The outside is cloth, content is pearl-foam which no pump needed, never leakage & sinking.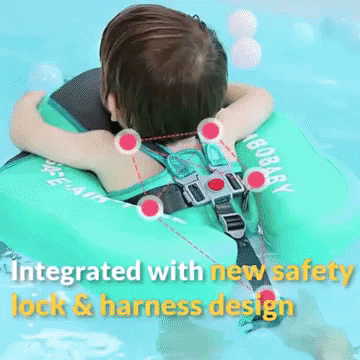 UPGRADED SAFETY BUCKLES
The Upgraded safety buckle provides 5 support pins and perfect 40°angle to keep a balance to avoid baby flip over and fall off.
SUPPORT BREASTSTROKE/BACKSTROKE
Upgraded into 2 swim ways which are backstroke and breaststroke with different buckle methods. Backstroke for 3-12 months, breaststroke for 3-24 months.
HOW TO USE?
WHY BABY SWIMMING FLOAT?
Made with high quality, environmentally friendly Pearl-Foam.

This is a premium latex material that is moisture-proof, very breathable, lightweight with superior buoyancy. It has elastic skin. BPA Free. Soft and warm in the water.

Adjustable buckle at to suit most infant sizes. This is very easy to Adjust. Unfasten safety clip and easily slip on. You can tighten up as necessary to avoid any slipping. It helps move freely in a comfortable position.
Patent Protection, Multi-upgraded safety design, the best Baby Swim Float for kids.
Super light and soft, Lighter than three iPhone X. Thickened swimming ring provides greater buoyancy and makes this the perfect swim float suitable for ages from 3~24months kids.
Skin-friendly material, Made of three layers of soft fabric, Skin-friendly, Breathable, soft and smooth, protect your baby's skin.
SAFETY WARNING:
This is NOT a lifesaving device. DO NOT leave a child unattended while the product is in use. Adult supervision recommended. Always stay in the pool within arm's reach of a child.
SPECIFICATION:
Dimensions:19 x 18 x 6 inches

Weight: 1.55 pounds

Manufacturer recommended age: 3 months and up

Material: 

Eco-friendly PVC
PACKAGE INCLUDED:
1 x Smart Swim Trainer With Sunshade
this is wonderful. we went to the pool with two other babies who had more traditional floats. every time they leaned forward their face went into the water. Not with this float. my son is a short 4 month old and fit perfectly in the laying back position. Since it works for up to 40lbs i am hoping next year we can use it again in the chest down position. everyone was jealous of this float and how safe and sturdy it was and i didn't spend time inflating it. the sun shade is a must have. it came with a bag perfect for carrying the float.
Works great for our 18lb 6 month old. She used it back floating and on her belly, both ways the float was very stable in the water (we were in an indoor pool by ourselves). Was fairly easy to get her strapped in and the straps adjusted both ways.
My daughter is 1 1/2 and she loves this thing. She can go around the pool in circles if she wants to and all i have to do is look at her to make sure she is safe. She enjoys being in the water, she didnt like it that much before. I know there is many options out there (we go to a water park and ive seen many) and this is the best option out there! You wont regret it.
Got it yesterday and used it today. Absolutely awesome! Of COURSE it's a baby; you must keep it beside an adult at all times. I kept a hand on it or put my finger thru the loop at the front. But it seemed stable and very secure, and the baby loved it. Except for the process of buckling him in lol.
Gotta order another now. I watch two babies and just wanted to be sure it was worth the $$ before getting two.
Easily fits infant down to three months of age which was the purpose for buying. Most other units say they cannot be used less than six months. This one seems very sturdy, with a baby in it I had no concern she would slip through or flip over. The shade screen attaches easily and is removable which is nice. I do wish it provided a little more shade but I guess they were balancing shade versus open air ventilation with net sides . All in all I would definitely buy again, and well worth it! Highly rec for the very young.